Behold the down-home goodness of a bone-in Smithfield ham. Easy to heat and eat, sometimes a challenge to carve. To help out, here's a quick video on how to properly carve a bone-in half ham. Just follow the prepping and cooking instructions, then sharpen your knives and take a minute to watch how to create a platter of juicy, delicious slices from your Smithfield Ham.
Preparing a Fully Cooked Bone-In Ham
Preheat oven to 325˚F. Remove packaging from ham. Place ham, fat-side up, in a 2-inch deep roasting pan. Add 1 cup of water to the pan. Cover the pan tightly with foil. Heat for approximately 12–15 minutes per pound. As oven temperatures may vary, adjust heating time accordingly. Allow ham to rest for 5 minutes prior to serving.
Easy Step-by-Step Carving Instructions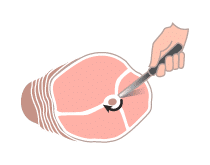 Carving a Bone-In Half Ham: Step 1
Cut around center bone with knife to free as many slices from the bone as desired.
---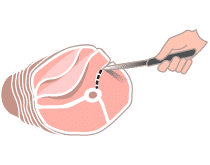 ---
Carving a Bone-In Half Ham: Step 2
Cut along the natural seams of the ham slices to remove sections of those slices you've already freed from the center bone.
---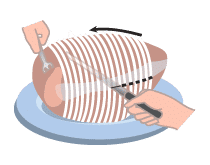 Carving a Bone-In Whole Ham Step 1
Place the whole ham (flat side down) on a cutting board with the shank (narrow end) to your right. Cut horizontally along center bone from right to left as shown. This will free slices from the bone.
---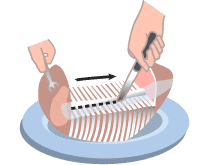 Carving a Bone-In Whole Ham Step 2
To free remaining slices, cut along both sides of the center bone.