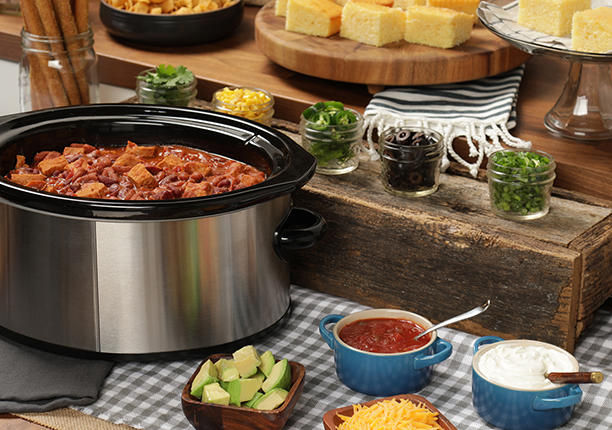 ---
Slow-Cooked Pork Chili
Skill Level: Beginner | Time: 90+ minutes | Servings: 5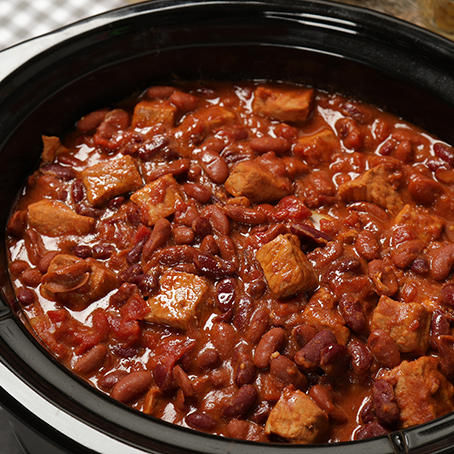 Ingredients
2 lbs. Smithfield All-Natural Boneless Fresh Pork Butt
2 tsp. kosher salt
1-1/2 pints low sodium chicken stock
3 (15 oz.) cans kidney beans, rinsed and drained
1 (28 oz.) can plum tomatoes
4 cloves garlic, thinly sliced
1 cup diced yellow onion
1/4 cup chili powder
2 tbsp. tomato paste
Instructions
Place all ingredients into 3 ½ - 4-quart slow cooker; mix well.
Cover and cook on low 8 to 10 hours. (high: 4 to 5 hours)
Serve and enjoy!
---
Topping Ideas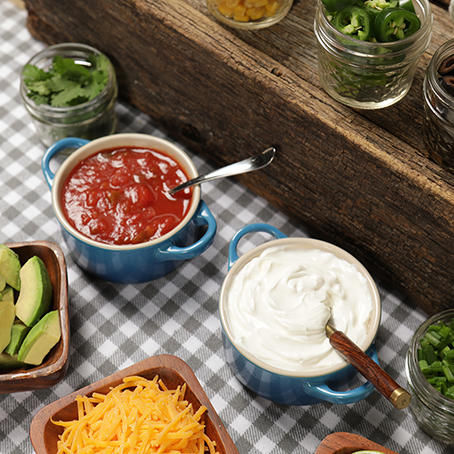 Ingredients
Here are some of our favorite topping options but feel free to add whatever you like!
Shredded cheese
Sour cream
Onions
Hot sauce
Tomatoes
Avocados
Olives
Oyster (or other) crackers
Crushed chips
Jalapeños
Green onions/scallions
Cilantro
Red/green peppers
Bacon
Limes

---
Sweet Potato Cornbread Muffins
Skill Level: Beginner | Time: 20 minutes | Servings: 12 muffins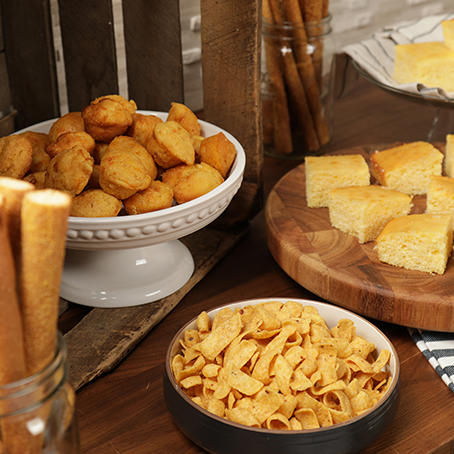 Parmesan breadsticks, cornbread, croutons or chips will work too, but this is one of our all-time favorite sides.
Ingredients
2 tbsp. vegetable oil
1 cup mashed cooked sweet potato
2 eggs, lightly beaten
1-1/4 cups milk
3/4 cup unbleached all-purpose flour
1-1/4 cup finely ground yellow cornmeal
1 tbsp. baking powder
1 tsp. salt
1/2 cup sugar
1/2 tsp. ground cinnamon
1/4 tsp. ground nutmeg
Instructions
Preheat oven to 450°F.
Whisk flour, cornmeal, baking powder, salt, sugar, cinnamon and nutmeg.
Combine sweet potato, buttermilk, vegetable oil and eggs in a separate bowl, add to dry ingredients.
Pour the batter into a greased muffin tin or muffin cups.
Bake for 20 minutes or until golden on top.
Add to your chili bar!