Hardwood Smoked Bacon & Cracked Black Pepper Marinated Fresh Pork Tenderloin
check
Feature:
No Artificial Ingredients
check
Feature:
Product of USA
check
Feature:
20g Protein Per Serving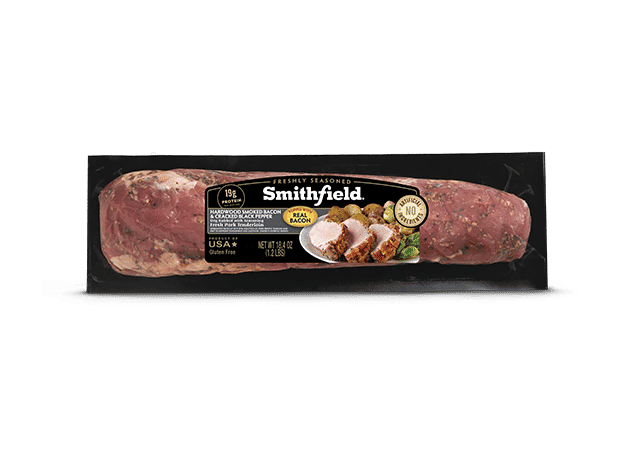 Ingredients
Marinated With Up To A 20% Solution of Pork Broth, Vinegar, and Salt. Rubbed With: Sea Salt, Black Pepper, Maltodextrin, Natural Smoke Flavor. Topped With: Hardwood Smoked Bacon Bits (Cured With: Water, Salt, Sodium Phosphates, Sodium Erythorbate, Sodium Nitrite. May Contain Sugar, Brown Sugar, Potassium Chloride, Smoke Flavoring).
Instructions
Cook Smithfield Pork to an internal end temperature of 145°F (medium-rare) to 160°F (medium) when measured in the thickest part of the meat. Let stand 10 minutes before slicing. Pork will be slightly pink in the center.
Oven: Heat oven to 425°F. Place pork on rack in shallow roasting pan. Roast 25 to 30 minutes per pound.
Grill: Heat charcoal or gas grill to medium. Grill tenderloin 18 to 30 minutes.
Nutrition Facts
Amount Per Serving
Serving Size: 4 oz
, Servings Per Container: 5
---
Suggested Recipes
Recipe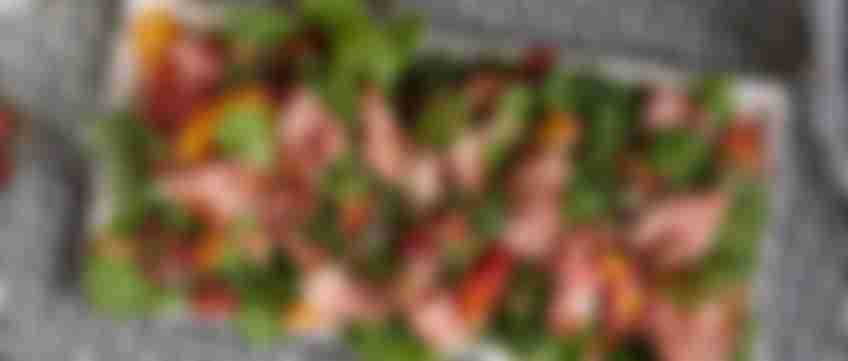 restaurant_menu
2 Servings
alarm1 hr 10 mins
schoolIntermediate
restaurant_menu2 Servings
---
star_borderstar_borderstar_borderstar_borderstar_border
(0 Reviews)
Related Articles
Article
A step-by-step guide to breading meats for frying 1. To bread means to coat with crumbs to create a dish with a crunchy exterior and moist juicy interior. 1. To begin, prepare three breading stations in shal
Article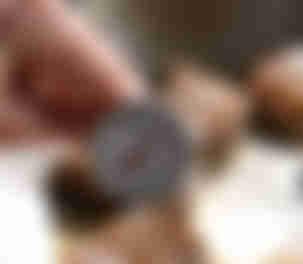 Knowing when pork is at its tender best is easier than you think. All you need is a meat thermometer. Because for most pork cuts, an internal temperature of 145˚F ensures that you'll have perfectly cooked pork that is tender and juicy ...
Article
Now you can have pork tenderloin even when time is tight. This video will show you a quick and easy technique for slicing and grilling pork tenderloin that results in gorgeous medallions that taste delicious.
Customer Reviews & Ratings