Meet the Team
Smithfield is proud to be a sponsor of Stewart-Haas Racing and we're thrilled to see Aric Almirola in the No. 10 Smithfield Ford Mustang.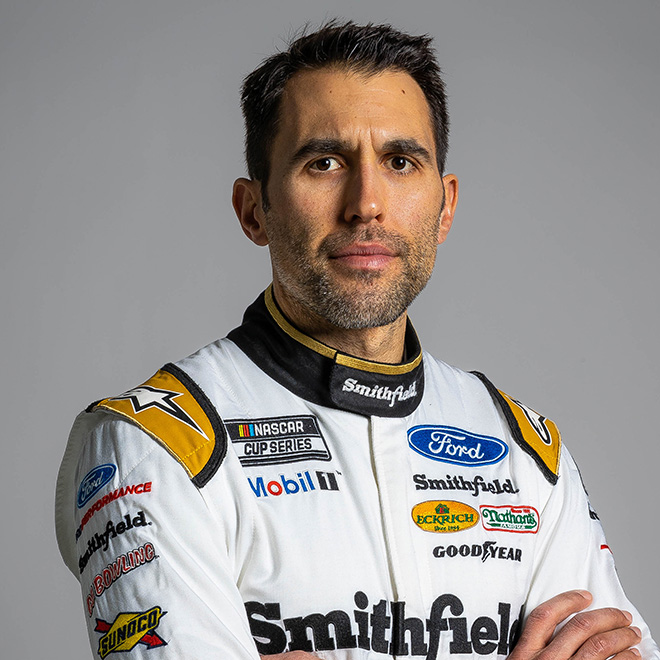 Aric Almirola
Driver, No. 10 Ford Mustang
Aric Almirola's career has come full circle at Stewart-Haas Racing (SHR) with the driver of the No. 10 Smithfield Ford Mustang enjoying the best years of his NASCAR Cup Series career.
Almirola has made the NASCAR Playoffs in all but one season since arriving at SHR in 2018. In fact, in his first year with the organization, Almirola finished a career-best fifth in the championship standings as a member of the 16-driver NASCAR Playoffs and advanced to the Round of 8 for the first time. He won his second career NASCAR Cup Series race Oct. 14 at Talladega (Ala.) Superspeedway as part of a season-long tally that included four top-five and 17 top-10 finishes and 181 laps led, surpassing all of his previous single-season statistics.
Matching those numbers in 2019 proved difficult, but Almirola continued to perform. He scored his second career NASCAR Cup Series pole – and first with SHR – Feb. 22 at Atlanta Motor Speedway. The pole symbolized Almirola's strength in qualifying, where his 10.5 average starting spot was his best in eight full seasons.
In terms of top-fives, top-10s and laps led, 2020 was a career year for Almirola. His six top-fives, 18 top-10s and 305 laps led were all season bests, and each significantly bettered his previous yearlong highs from 2018.
View More expand_more
At a Glance
Birthdate: March 14, 1984
Birthplace: Elgin Airforce Base, Fort Walton Beach, Florida
Hometown: Tampa, Florida
https://aricalmirola.com
Connect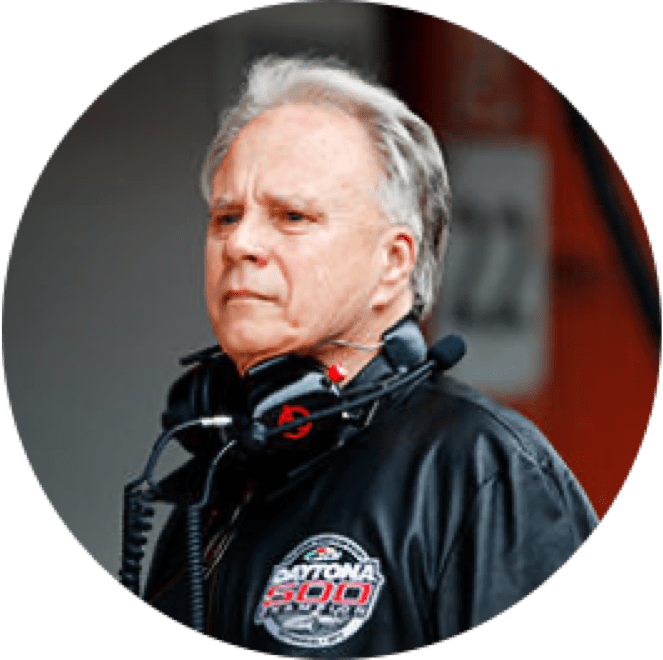 Gene Haas
Industrialist, Innovator, and Team Owner
INDUSTRIALIST
Find a challenge. Create a good, efficient and cost-effective solution. Repeat. For Gene Haas, co-owner of Stewart-Haas Racing (SHR), this has proven to be his formula for success in business, racing and philanthropy. In 1978, Haas founded Proturn Engineering, working side-by-side with his two employees, machining parts for the electronics and aerospace industries. He eventually evolved its success into Haas Automation, Inc. and after a series of inventions, including his first vertical machining center (VMC) in 1987, Haas Automation continued to expand – leading to its current 1-million-square-foot location in Oxnard, California.
Haas' desire to innovate and tackle new challenges goes beyond his interest in machine tools. In 2007, Haas built Windshear, one of the most advanced automotive wind tunnels in the world. It opened to its first customer, a Formula One Team. The facility's centerpiece is a rolling road, which allows a full-size car to be restrained in place directly on top of a massive, treadmill-like stainless steel belt rotating at speeds up to 180 mph.
TEAM OWNER
In 2003, Haas' passion for auto racing lead him to form his own NASCAR Cup Series team: Haas CNC Racing. Haas made headlines in 2008 when he announced that he was partnering with Tony Stewart, fielding two NASCAR Cup Series entries – one for Stewart and another for Ryan Newman. In 2009, Stewart recorded its first point-paying NASCAR Cup Series victory making it the first time a driver/owner won a point-paying NASCAR Cup Series race since Ricky Rudd in 1998.
In August 2011, SHR added a third team for INDYCAR star Danica Patrick and two years later made history at the Daytona 500 with her pole win, the first NASCAR Cup Series pole ever won by a woman. The SHR team grew again with the addition of Kurt Busch and Kevin Harvick, who wasted no time racking up back-to-back victories. Fast-forward to 2016, SHR announced that it would switch manufacturers to Ford beginning with the 2017 season. Its inaugural year with Ford started off with a bang, as Busch won the season-opening Daytona 500.
Closed expand_less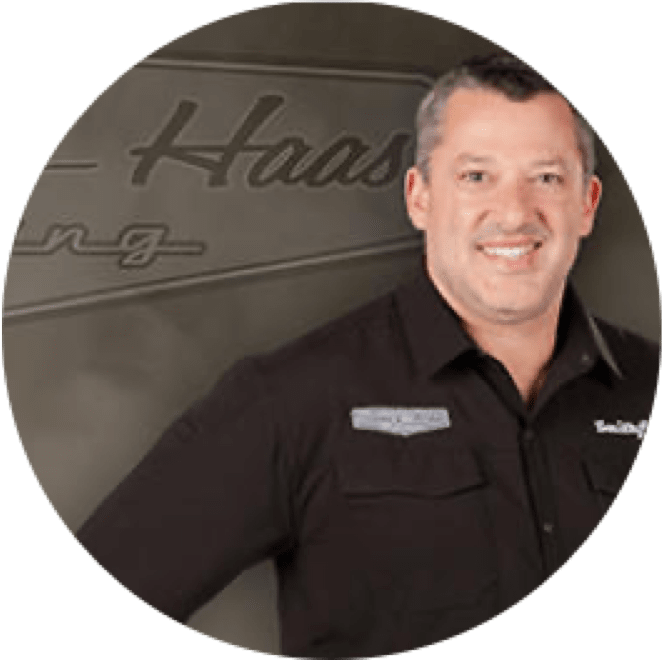 Tony Stewart
The Legendary Driver and Owner
DRIVER
Pick a racing series. Choose a style of racecar. Name a venue. Chances are, Tony Stewart has proven victorious – in and out of the driver's seat.
Despite a legendary, professional driving career, Stewart can still remember the days of wheeling a go-kart in 1978 at a Westport, Indiana, racetrack. "When I started racing competitively when I was about 7 or 8, getting a trophy that was bigger than the other kids' was all I cared about," Stewart said. "I couldn't have asked for more out of this life. I feel like I'm a very, very fortunate person."
His early USAC success in 1995 led Stewart to earn a spot in the fledgling IndyCar Series, which sowed the seeds of Stewart's NASCAR career. A schedule of 22 NASCAR Xfinity Series races with Joe Gibbs Racing in 1998 prepared Stewart for his assault on the Cup ranks in 1999.
Stewart's achievements on the racetrack are so prolific that there are simply too many to list. From racing "Double Duty" in both the Indianapolis 500 and the Coca-Cola 600 on the same day to his most widely-known titles in the NASCAR Cup Series (2002, 2005, and 2011), Stewart found success around every turn. After a 20-year professional driving career, Stewart retired from his NASCAR driving duties following the 2016 season to focus on his co-ownership of Stewart-Haas Racing.
OWNER
In 2008, Stewart announced he was leaving Joe Gibbs Racing to become a driver/owner in the NASCAR Cup Series with Stewart-Haas Racing. Many people saw Stewart's new direction as an impossible challenge, but Stewart ended a 375-race winless streak for driver/owners when he won the NASCAR Cup Series race at Pocano (Pa.) Raceway in 2009.
Often overlooked in Stewart's transition to a driver/owner in the elite NASCAR Cup Series was his long, successful history as a team owner in other racing series. From a massive facility in Kannapolis, North Carolina, over 300 employees work on behalf of Kevin Harvick's No. 4 Ford Mustang, Aric Almirola's No. 10 Ford Mustang, Chase Briscoe's No. 14 Ford Mustang and Cole Custer's No. 41 Ford Mustang in the NASCAR Cup Series, as well as Riley Herbst's No. 98 Ford Mustang in the NASCAR Xfinity Series. Stewart has also proven adept at providing cars and equipment for racing's dirt-track elite, where he created
In 2020, to celebrate his accomplishments in NASCAR both as a driver and team owner, Stewart was inducted into the NASCAR Hall of Fame, joining other legends of the sport with that honor.
Closed expand_less
At a Glance
Birthdate: May 20, 1971
Birthplace: Columbus, Indiana
Hometown: Columbus, Indiana
http://tonystewart.com
Connect