Boneless Shoulder Picnic Roast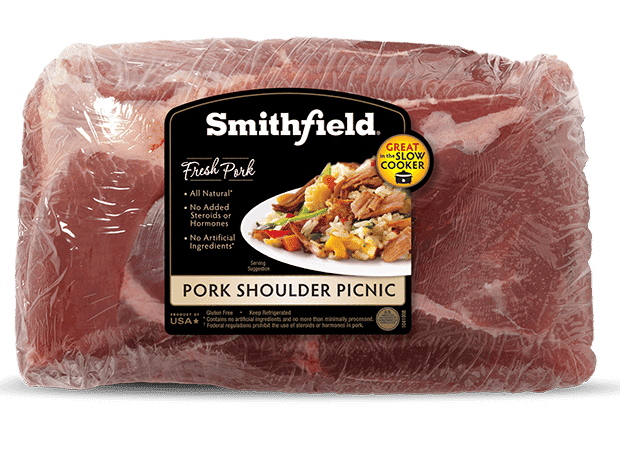 Instructions
Cook Smithfield® Pork until tender, or 200°F for pulled pork. Let stand 15 minutes before serving.
OVEN: Heat oven to 350°F. Place pork, fat side up, on rack in shallow roasting pan; season as desired. Roast 30 to 35 minutes per pound.
SLOW COOKER: Season pork as desired and place in 3 1/2- to 5-quart slow cooker. Pour 1/2 cup water, chicken broth, or white wine into pot. Cover and cook on low 8 to 10 hours (high: 4 to 6 hours). If cooking vegetables with pork, thinly slice and place in bottom of cooker with meat on top.
Nutrition Facts
Amount Per Serving
Serving Size: 4 oz
---
Suggested Recipes
Recipe
restaurant_menu
8 Servings
alarm5 hrs 15 mins
schoolIntermediate
restaurant_menu8 Servings
---
star_borderstar_borderstar_borderstar_borderstar_border
(0 Reviews)
Customer Reviews & Ratings