Slow Smoked Mesquite Flavor Marinated Fresh Pork Loin Filet
check
Feature:
No Artificial Ingredients
check
Feature:
Product of USA
check
Feature:
19g Protein Per Serving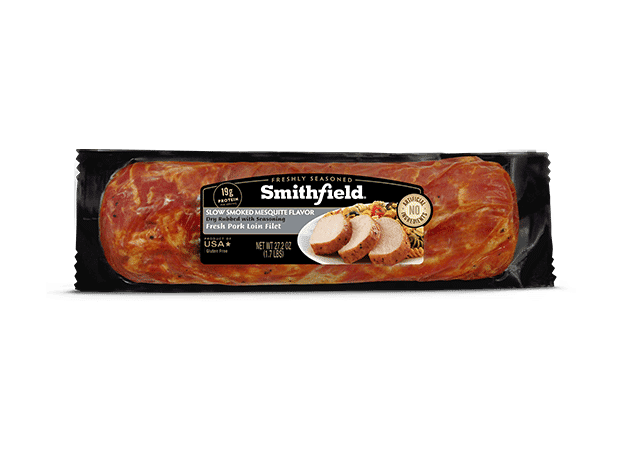 Ingredients
Rubbed With: Cane Sugar, Sea Salts, Dextrose, Tomato Powder, Maltodextrin, Spices, Onion Powder, Roasted Garlic Powder, Yeast Extract, Paprika, Natural Mesquite Smoke Flavor, Citric Acid, Extractives of Paprika (Color).
Instructions
Cook Smithfield Pork to an internal end temperature of 145°F (medium-rare) to 160°F (medium) when measured in the thickest part of the meat. Let stand 10 minutes before slicing. Pork will be slightly pink in the center.
Oven: Heat oven to 375°F. Place pork on rack in shallow roasting pan. Roast 30 to 35 minutes per pound.
Grill: Heat charcoal or gas grill for indirect cooking at 375°F to 400°F. Grill loin filet for 30 to 40 minutes per pound, turning occasionally.
Fast Grill: Butterfly the loin filet by slicing down the middle lengthwise without cutting all the way through. Open filet to lay flat and grill over direct heat for 7 to 9 minutes on each side.
Nutrition Facts
Amount Per Serving
Serving Size: 4 oz
, Servings Per Container: 7
---
Suggested Recipes
Recipe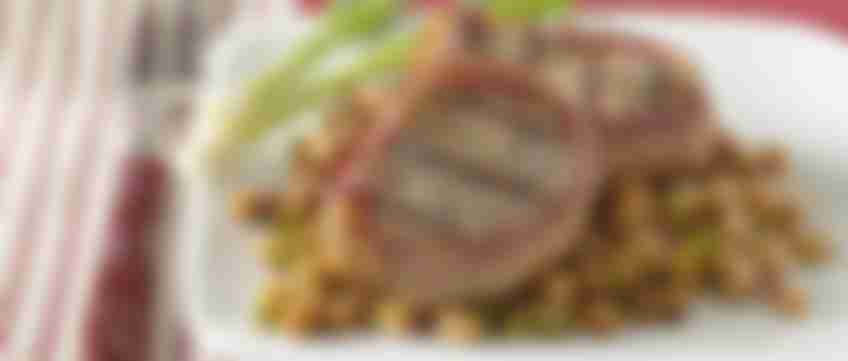 restaurant_menu
6 Servings
alarm1 hr 20 mins
schoolIntermediate
restaurant_menu6 Servings
---
star_borderstar_borderstar_borderstar_borderstar_border
(0 Reviews)
Recipe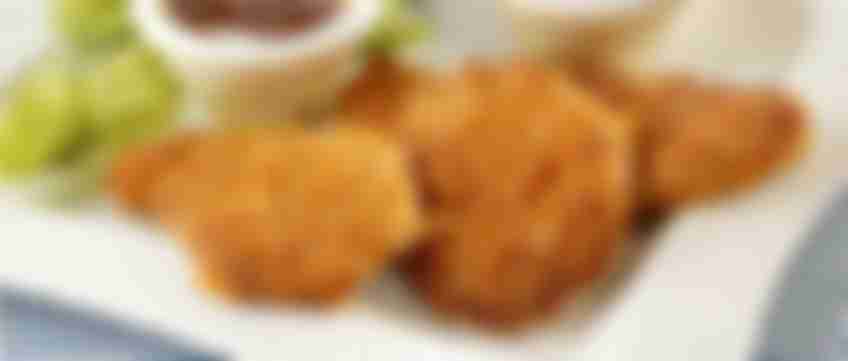 restaurant_menu
4 Servings
alarm30 mins
schoolBeginner
restaurant_menu4 Servings
---
star_borderstar_borderstar_borderstar_borderstar_border
(0 Reviews)
Related Articles
Article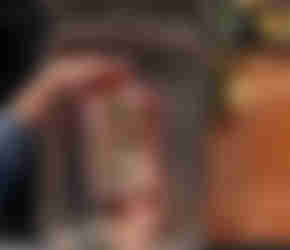 Roasting is the cook's little secret for creating an impressive and tasty meal with surprisingly little effort. A large, fresh pork cut like a loin roast is placed in the oven on high heat and seared nicely to a rich brown.
Article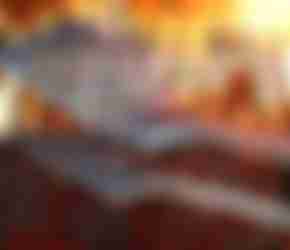 1. Until you're familiar with your grill and techniques, stick to the recipe instructions. 2. Keep your hands safe. Use long-handle ...
Customer Reviews & Ratings