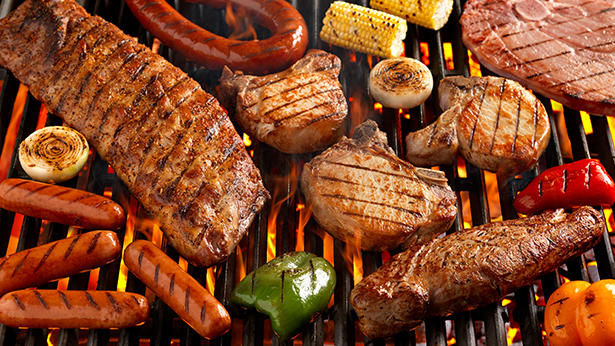 Whatever method you choose, leave the lid on and only lift it to turn the meat or check for doneness.
DIRECT grilling
is used for cooking foods that take less than 25 minutes, such as hamburgers, steaks, thin chops, kabobs, sausages and most vegetables. Direct grilling is also necessary to sear foods, creating grill marks—that crisp, caramelized texture where the food hits the cooking grate. To grill by DIRECT method on a charcoal grill, place the food on the cooking grate set over an even, single layer of prepared coals. For a gas grill, preheat the grill with burners turned to High. Place the food on the cooking grate then adjust burners to the temperature noted in the recipe.
INDIRECT grilling
is used for larger cuts of food that require 25 minutes or more of grilling time and for foods that would dry out or scorch if exposed directly to the heat source. Indirect grilling is similar to the way you might roast pork tenderloin, ribs, whole turkeys or chickens. Delicate fish fillets cook gently over indirect heat. To grill by INDIRECT method on a charcoal grill, place a drip pan in center of the charcoal grate to collect drippings to use in sauces and arrange hot coals evenly on either side. (A rule of thumb is to have about 30 grey-ash covered coals on each side, adding 8 to 10 additional briquettes every hour to maintain the cooking temperature.) When cooking larger cuts of meat, add water to the drip pan to keep drippings from scorching. Place the cooking grate over the coals and center the food over the drip pan or empty space.