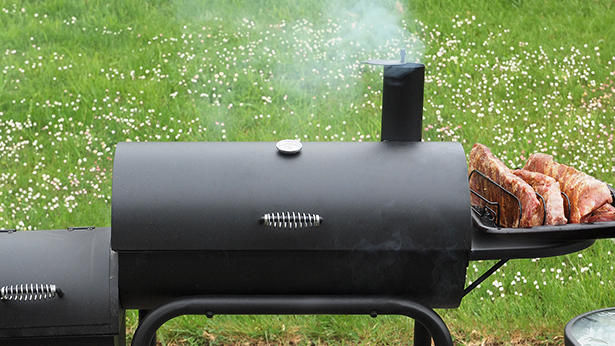 Smoking pork and other meats is an age-old technique that can produce delicious results. Here are a few pointers to make your smoky outing a success.
Equipment
From converted trash cans to high-tech devices, we've seen a lot of different smokers. Do the research and pick the smoker that best suits your needs and situation.
Wood Types
Mesquite
This is the classic barbeque wood. Big cuts and ribs accept mesquite's distinct flavor.
Apple
Apple wood smoking returns a sweet, fruity flavor that works well with ham and poultry.
Cherry
Like apple, sweet and fruity. Poultry, fish and ham make good subjects for cherry wood smoking.
Hickory
The most popular smoking wood, hickory's pungent notes produce great accents for ribs and most other red meat.
Alder
A lesser known smoking wood that is perfect for fish—especially salmon.
Maple
This sugary tree puts a light and sweet taste onto poultry and ham.
Oak
Oak wood smoking is best for big cuts that require long smoking times. Its flavor is strong but distinctive.
Pecan
It's hard to find but when you do, its cool burning characteristics lend a fruity and nutty flavor to anything you want to smoke.
Techniques
Meat smoking techniques vary from chef to chef but here are a few of the basic to-dos.
Soak the wood to add a little moisture to the process.
Place a bowl of water or fruit juice in the smoker to add additional moisture and flavor.
Keep the smoker between 200°F and 250°F. Pay close attention to the temp and add wood as needed.
Make it first burn down to coals before adding the meat.
Cook meat fat side up.
After you add the meat, shut the door and don't open it for 1.5 hours.
Now that the first hour or two have passed, pay close attention to the temp and let a couple more hours pass.
Some chefs wrap the meat at this point to lock in the juices.
In terms of total time, there will be some trial and error involved and it's all based on the size and quantity of the meat.