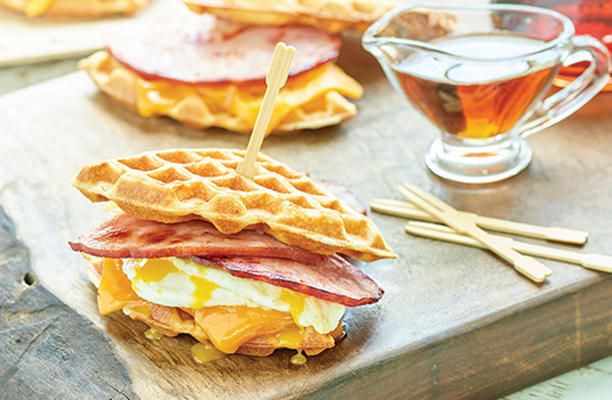 1. Toasty, Tasty Wafflewich
Move over maple syrup. We've got a new use for frozen waffles. Try this hack for a delicious breakfast sandwich that's easy to make and great for brunches too.
Ingredients
Sliced Smithfield Ham
Frozen waffles
Shredded Swiss cheese
Spicy brown mustard (optional)
Directions
Take two frozen waffles and place them open faced on aluminum foil.
Spread mustard on one waffle.
Sprinkle shredded Swiss cheese on one waffle and place sliced Smithfield Ham on the other.
Place in toaster oven on medium heat.
Cook for 5-7 minutes until cheese is melted and waffles are toasty.
---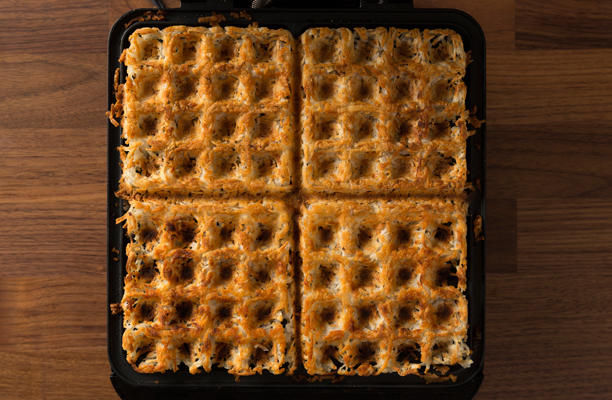 2. Easy, Cheesy Waffle-Iron Hash Browns
No one can pass up breakfast when there are hash browns on the table. Try this time-saving hack for easy and delicious cheesy hash browns that everyone will love.
Ingredients
Nonstick cooking spray
One bag frozen shredded hash browns, thawed
1/2 stick butter, melted
1 teaspoon kosher salt
1/2 teaspoon freshly ground black pepper
3/4 cup grated Cheddar
Directions
Preheat waffle iron on medium setting and spray both sides with cooking spray.
Squeeze out any excess moisture from the hash browns and place in bowl.
Pour melted butter over the hash browns.
Add salt, pepper, and cheese into bowl and combine.
Spread mixture evenly on waffle iron.
Close the waffle iron and cook for 15 minutes until golden brown.
---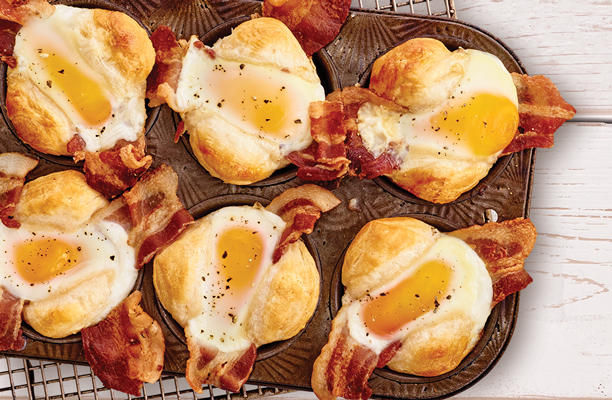 3. Easy, Elegant Bacon Brunch Cups
These simple but elegant egg cups can be cooked ahead of time and stored in the fridge. They're great hot or cold, for breakfast, lunch and even dinner.
Ingredients
Nonstick cooking spray
Eggs
Smithfield Bacon, precooked
Salt and pepper to taste
Asparagus,pre-cooked and cut
Directions
Preheat oven to 400°F.
Spray a muffin tin with nonstick cooking spray.
Place one strip of bacon in each muffin cup, pushing down. It will hang out over the side.
Crack one egg into each cup.
Place one piece of asparagus in each cup as well.
Season with salt and pepper.
Bake on middle rack for 12-15 minutes.
---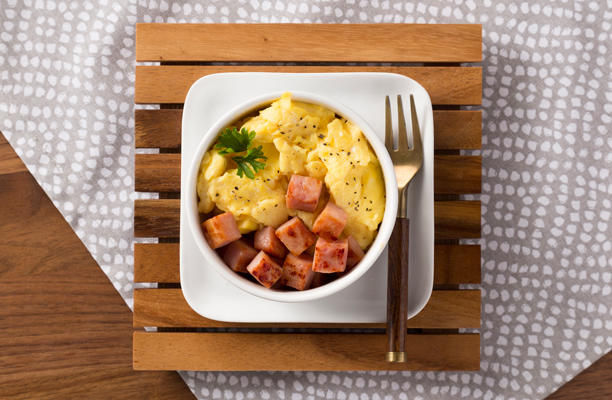 4. No-Scramble Scrambled Eggs and Ham
Love scrambled eggs but no time to scramble for a pan? Try this breakfast hack that will have you sitting down to a protein packed Smithfield breakfast in just over a minute.
Ingredients
Diced Smithfield® Anytime Favorites™ Ham
2 eggs
2 tablespoons
milk
Salt and pepper to taste
Directions
Whisk eggs, salt, pepper and milk in microwave-safe bowl until blended.
Add 1/4 cup of diced Smithfield Anytime Favorites Ham and stir into mixture.
Microwave on high for 45 seconds. Stir.
Microwave on high for 30 to 45 seconds longer.
Serve immediately.
---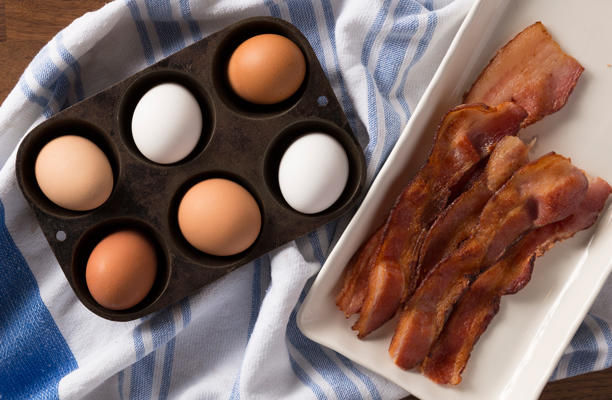 5. No-Boil Hard-Boiled Eggs
Hard-boiled eggs are delicious but tricky to make. Try this no-boil hack for a better way to go. Serve them next to some delicious Smithfield Bacon and you can wakey wakey to eggs and bakey any day of the week.
Ingredients
Eggs Muffin tin
Large bowl of ice water
Directions
Preheat oven to 325°F.
Place eggs in muffin tin.
Bake for 30 minutes.
Remove eggs from oven and place directly into bowl of ice water.
Allow to rest for 10 minutes.