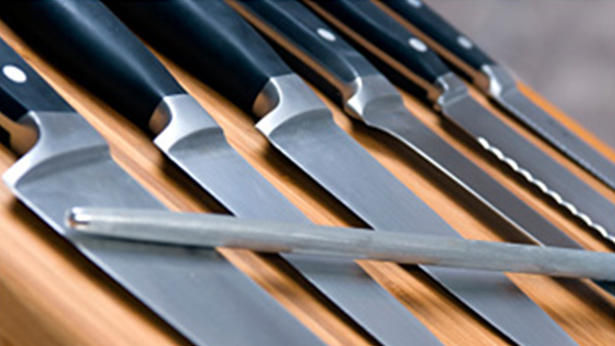 Almost every chef will tell you that their most prized culinary possession is their favorite knife. Because knives perform the most rudimentary functions in the kitchen, it's important to have the right variety and the best personal fit. In addition to selecting a variety of knives with complementary uses, when you make your purchases it's important to consider a few personal preferences like size, material and style. Generally speaking, shorter knives, say 8-inch rather than 10-inch chef's knives, are easier to control. If you are a small person, they may feel more comfortable in your hand, as well. Do not purchase a knife that feels too heavy or you're bound to tire while prepping large amounts of food.
Chef's knife
Also called a French knife, the chef's knife is by far the most important tool in the kitchen. These long, thick blades range from 8 inches to 12 inches in length and perform a multitude of tasks. From dicing to chopping to slicing and more, a good chef's knife can do just about any type of prep. Larger blades cover more territory for heavy chopping, and shorter blades are better for detail work; however, it's equally important to choose a chef's knife that fits well in your hands and feels comfortable while you chop.
Paring knife
These sharp 2-4-inch knives have skinny blades and a pointed tip. They're perfect for peeling and trimming fruits and vegetables.
Utility knife
A utility knife is a little bit longer than a paring knife—about 5-6 inches—and has a thin blade as well. Use it for trimming fruits and vegetables as well as for slicing small cuts of meats and poultry. It can also be used in place of a boning knife to trim raw meats and poultry.
Slicing knife
This long slender knife should be at least 10 inches long, but may be up to 14 inches in length. Use this flexible narrow blade to create thin, even slices of meats, poultry and cured fish by gliding it back and forth with long, even strokes. Slicers are essential for properly carving holiday hams or roasted turkey.
Bread knife
The only serrated knife that is necessary, a bread knife cuts through crusty bread and other baked goods that could dull a typical chef's knife with a few slices. The serrated edge saws through products, rather than chopping or slicing like a chef's knife. It should not be used for chopping and other common prep work.
Steel
Steels fine-tune, or hone, the edges of all knives, excluding the bread knife. Steels are typically about 10 inches long and come in a round or flattened diamond sharp. To fine-tune your edges before cutting, pull your knife blade down against the steel at a 20-degree angle, alternating sides. Using sharp knives helps you to cook safely and efficiently.